Discover more from Disability Visibility
The latest and greatest in disability media, culture & politics
Over 4,000 subscribers
Audiobook updates & more
14 more days, y'all
Hello friends!
1) From now until June 22nd, you can enter a giveaway for a free copy of DISABILITY VISIBILITY on Goodreads. Not exactly sure what the rules are, but please share with folks for a chance to win! https://www.goodreads.com/giveaway/show/308274-disability-visibility-first-person-stories-from-the-twenty-first-centu
2) A month ago I got to record the introduction for the audiobook. Here's a photo of me recording remotely with Linda Korn, Executive Producer, Penguin RandomHouse, and Michael Parlett of Talented Productions.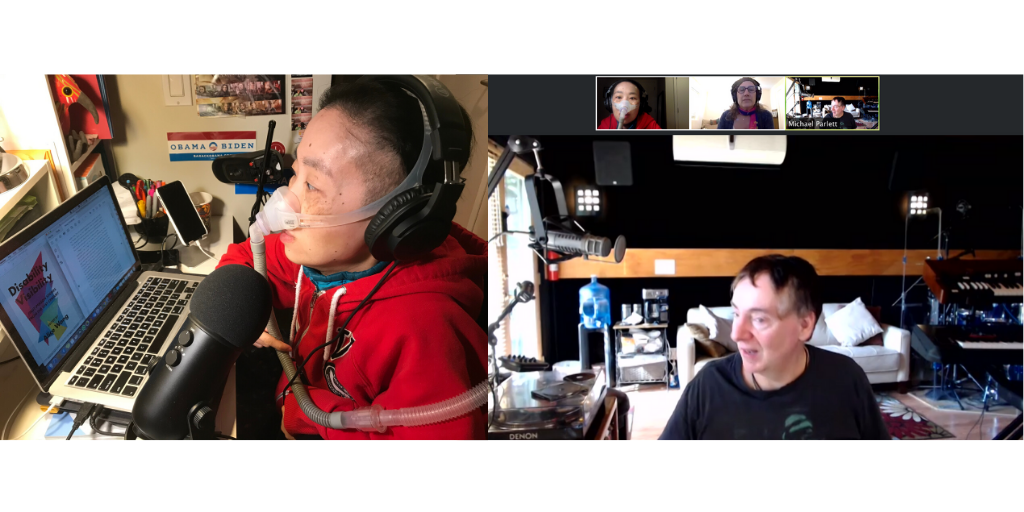 Image description: [left] Alice Wong in front of a laptop with a Yeti microphone connected via USB. She is wearing headphones and a mask over her nose attached to a gray tube. [right] Screenshot from video call with Linda Korn and Michael Parlett.
3) Exciting news! I am delighted to announce that Alejandra Ospina is the narrator for DISABILITY VISIBILITY's audiobook! Listen to this short sample by Alejandra:
Alejandra on narrating DISABILITY VISIBILITY
"I was honored to be asked to record the audio version of this anthology. If I can help make stories of disability rights, justice and culture accessible to more people, sign me up!
While I was recording at home, I laughed with Alice when I mentioned that I taped chux (absorbent pads) to my windows to dampen the sound of the room, which I think makes it an especially crip-friendly book!
Authors in this book speak with reverence about crip ancestorship, and in that vein, I dedicate my reading to the ancestors, particularly the beloved and gone too soon Carrie Ann Lucas, and our unexpectedly new young ancestor, Stacey Park Milbern. Thank you for the lives you lived."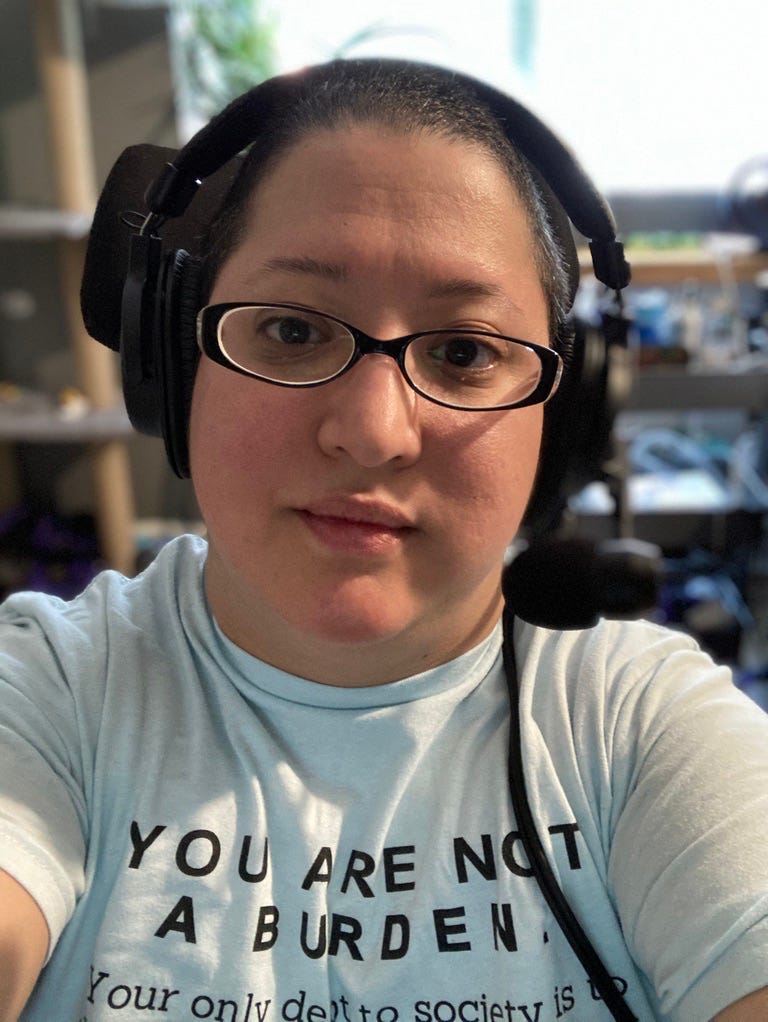 Image description: Alejandra is a light-skinned Latina woman with close cropped dark hair. In a close-up selfie, she wears a headset with a microphone, glasses with narrow black frames, and a short-sleeved, light blue shirt where the first part of a quote by Lydia X. Z. Brown is visible: YOU ARE NOT A BURDEN.
Alejandra Ospina is a first-generation native New Yorker and full-time wheelchair user whose family has roots in Colombia. She has been active for several years in various advocacy and performance projects online, locally and beyond, and also works as a media access provider, creating closed captions and audio descriptions.  Always glad to be a part of formative works to share with new audiences, she has previously collaborated as a vocalist, actor, dancer, and/or accessibility provider with organizations such as Heidi Latsky Dance, Infinity Dance Theater, ZCO/Dance Project, Kinetic Light, the Queens Theatre, HiGlass Entertainment, and others.
Website: superaleja.org
Facebook: https://www.facebook.com/superaleja
Twitter: https://twitter.com/superaleja_
PRE-ORDER LINK FOR THE BOOK
https://www.penguinrandomhouse.com/books/617802/disability-visibility-by-alice-wong/